DAN eNewsletter | November 2008
FROM THE DAN EO
I appreciate the DAN e-newsletter won't be a top priority for those setting and marking exams, writing reports and generally trying to retain some vestige of sanity in these frenetic last weeks of term. But I did want to share some interesting news and ideas from around the network which you might have an opportunity to catch up on over the holidays.
If nothing else, do yourself a favour and steal a few moments to read Chris Welsh's Advent reflection -People, Get Ready...
We've got three great PD opportunities lined up for Term 1, 2009 - details of which can be found below. Thank you to those schools who have already renewed their 2009 DAN Membership - I look forward to hearing from the rest of you soon!
Wishing you all a joyous Noel and much deserved R&R...
DAN RESOURCES
Sharing the Good Work Conference was held at St Paul's School, Brisbane on 5 November 2008. This was a valuable opportunity for RE teachers to come together and share examples of best practice units from schools across Brisbane. We hope to make each of the units presented available for all DAN members in due course, starting with the keynote address from Dr Greg Jenks, The Fourth R*: Religious Literacy as a Community Good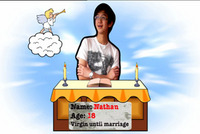 Sex & Faith - what role does faith play in determining attitudes towards sex? A panel including Catholics, a gay Christian, Atheists, Muslims & New Agers amongst others, joined the conversation aired on the Hack Half Hour, ABC 2 on 17 November. Rated M - this episode (which you can download), would make a very good catalyst for classroom discussion with older students. Read more...

God, Darwin & Design - Brown University Professor of Biology, Dr Kenneth Miller, discusses why intelligent design is a threat to scientific rationalism. This video is presented in conjunction with ABC Fora, an excellent source of talks and debates online.

DAN BLOG

People, get ready.....(for Advent) - Chris Welsh from Canberra Grammar School reflects on the excitement on both sides of politics following the result of the recent US presidential elections and challenges, "If we are impatient for the new regime in Washington...do we feel the same immediacy, the same promise of a new coming, of something world-shaking and life-shaping in the Bethlehem narrative?" Read more...
2008 Philosothon - some 100 students from Years 8-11 participated in a Community of Inquiry styled competition at Hale School, Perth on 29 October. Students from Christ Church Grammar School emerged as the winners, and the judges comments suggest the art of philosophical enquiry is alive and well in WA where students from seven schools have sat the new WACE Philosophy & Ethics exam this year. Read more...
DAN FORUM

Ask questions and share resources & ideas with colleagues on the DAN Forum. Simply login and join a conversation or initiate a new dialogue.
REwind - Highlights of recent radio programmes and articles of particular relevance to the RAVE classroom


Recent programmes listed on the DAN section REwind include:
Encounter - Faith in Politics. As the Rudd government approaches its first anniversary, one of the trickiest, most sensitive and potentially controversial intersections in Australian public affairs is explored - the relationship between religion and politics. Taking as a starting point Kevin Rudd's long essay declaring Dietrich Bonhoeffer his hero, the program tracks the influence of religion on Labor and Coalition policies.
The Spirit of Things - The Year of Festivals: All Saints, All Souls and Advent. Celtic and Christian feast days intertwine on All Saints Day, or All Hallows Day (1 November) and All Souls Day (2 November). Advent on 30 November is one of the most important times on the Lutheran calendar…
Compass - The Decision. For eight years Dr Lachlan de Crespigny, a leading obstetrician, has been at the centre of a bitter battle over the rights and wrongs of a life and death decision he and a team of doctors made at a Melbourne hospital. This story examines the complex decisions doctors must make in 'grey' areas of law. It asks how they can provide lawful and ethical treatment in life and death situations, when the rules aren't clear and society isn't willing to make them.

Unleashed - Economics and Theology. Professor of Economics at the Australian Catholic University, Paul Oslington says that the current financial crisis is an opportunity to rediscover the contribution that theology can make in modern economic life.
PROFESSIONAL DEVELOPMENT OPPORTUNITIES - TERM ONE 2009
Know of a Professional Development opportunity in 2009? Contact the DAN EO so it can be included on the DAN website and eNewsletter (circulated to some 2000 educators across Australasia).
Teaching Values Across the Curriculum Seminars 23-27 March 2009
Brisbane 23/3, Sydney 24/3, Adelaide 26/3, Melbourne 27/3
Develop practical strategies for integrating values across the curriculum in a rigorous and relevant way. Comprehensive teaching resources provided. Read more....

Sparks in the Classroom: Approaches to Religious Education
Tuesday 7 April 2009, Newington College, Sydney with Robert Kirkwood and Dr Jeremy Hall. Read more...

2009 DAN CONFERENCE - 15-17 April 2009, Old Parliament House, Canberra
Teaching the Abrahamic Religions: Christianity in Dialogue with Judaism & Islam
The Conference Programme and Registration Form are online. Early Bird closes 20/2/09
DAN NEWS

DAN Board moves - Roy Kelley, Headmaster of King's College, Auckland has been appointed Headmaster of Melbourne Grammar School from April 2009, when current Head (and Chairman of DAN) Paul Sheahan retires after 14yrs at the helm of MGS. And Brad Fenner, currently Head of Westminster School, Adelaide has been appointed new Headmaster of King's College! Our warmest congratulations to Roy and Brad (we'll save the tears for Paul until next year!) WA DAN Exec member, Karl Guest returns to the UK next month. WA's loss is Hampshire Collegiate School's great gain, and we wish Karl and his family all the very best with this next chapter. Many lives in Australia are the richer for having come into contact with Mr Guest!

If you are committed to improving the standard of Values, Philosophy & Religious Studies in Australasia, why not consider joining the DAN Executive (or nominating a colleague) in 2009? The network will only truly flourish if we have Executive representation from each State, Territory and Island! The EO would be delighted to tell you more about what this entails (go on - email me!)

If your school is looking for a part or full-time REC or teacher of Philosophy, Religious Studies, Christian Education, RAVE, RaPS etc! we will happily post details of the position on the DAN website and eNewsletter (at no charge). Contact the DAN EO and spread the word to some 2000 educators across Australasia.

Have you considered advertising further afield? When Diocesan School for Girls in Auckland placed an online advertisement for a teacher of Religious Studies with the UK based Times Education Supplement (TESconnnect) last year, they received over 30 quality applications. All applicants had formal RS qualifications and teaching experience and were happy to relocate to NZ. The successful applicant, Nicola Storey, will share her (positive!) experience of the process some 12 months down the track in the next eNewsletter.

The 20th issue of Dialogue Australasia journal was posted to members in early November (with 2009 DAN Membership invoices). Thank you to those schools who renewed their membership so promptly - I look forward to hearing from the rest of you soon!
It's not too late to join DAN or upgrade your journal subscription to full DAN Membership! Contact the DAN EO or simply join online.
NEW DAN WEBSITE: www.dialogueaustralasia.org